Eurojet 250ml Bottle of Universal Inkjet Printhead Recovery Fluid
Eurojet 250ml Bottle of Universal Inkjet Printhead Recovery Fluid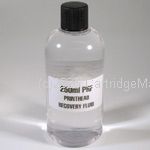 Pricing (including GST)
Save: $10.45 (26%)
RRP

$39.95

1+$29.50
2+$28.50
3+$27.50
Product Information
Manufacturer: Eurojet
Type: Universal Inkjet Printhead Recovery Fluid
Pack Contents: 1 x 250ml bottle of universal inkjet printhead recovery fluid.
Features
Reduce print costs by minimising ink & paper wastage
Restore & maintain premium print quality
Avoid costly printhead replacement
Recover blocked printheads
Extend printhead life
Quick & easy to use.
Further Information
Printhead Recovery Fluid
If a cartridge has been left unused or stored for a long period of time, its print nozzles will become blocked with dried ink. Print nozzles are very delicate and sensitive and if any substance other than a specially formulated solvent is used to clean them damage to the nozzles and printhead is likely to occur. Allowing printheads to soak in the recovery fluid or applying the solution to the printhead and contacts will clean the printhead and restore print quality.
Related Items
Customer's who purchased this product also looked at the following items:-