*Brother LC-135YXL Yellow Extra Large New Compatible Inkjet Cartridge - 1,200 Pages
Brother LC-135YXL Yellow Extra Large New Compatible Inkjet Cartridge - Average Yield 1,200 pages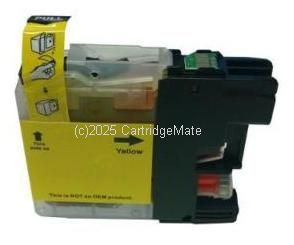 Pricing (including GST)
Save: $10.00 (39%)
RRP

$25.95

1+$15.95
2+$13.95
3+$11.95
Product Information
Manufacturer:
Type: Cartridge
Pack Contents: 1 x Brother LC-135YXL Yellow New Compatible Inkjet Cartridge - Average 1,200 Page Life
Brand NEW cartridge
All Prices include GST
Features
Save up to 70% on printing costs.
Highest quality compatible cartridge.
Manufactured new to ISO9001 BSI standards.
Printer guarantee.

Further Information
Compatible Inkjet Cartridges
These compatible inkjet cartridges (also known as replacement or generic cartridges) are specially engineered to meet the highest standards of quality and reliability.
Manufactured 100% brand new, containing only new components, they are an economical alternative to expensive name-brand inkjet cartridges.
The use of compatible inkjet cartridges and supplies does not void your printer warranty.
Frequently Asked Questions!
>Q.Will the quality of print be equivalent to that of the original?
A.Yes,because we only use the highest quality compatible products.
Q .Will compatible cartridge void my manufacturers warranty?
A.No, the original equipment manufacturer cannot void your warranty simply for using compatible cartridges. In fact there are laws preventing manufacturers from doing just that. Manufacturers can however refuse to repair a printer under warranty if it is proved that a compatible cartridge has caused damage to the printer.Hence our guarantee!
Q.What is your guarantee!
A.We guarantee that our products will not damage or cause premature failure to your printer. If as a direct resut of using our compatible cartridges damage occurs to your printer we guarantee to either repair or replace the printer absolutely free of charge!

100% satisfaction guarantee!


Related Items
Customer's who purchased this product also looked at the following items:-