*Hewlett Packard L0S72AA (955XL) Black Extra Large
Hewlett Packard L0S72AA Black (955XL) Extra Large New Compatible Inkjet Cartridge - Average Yield 2,000 Pages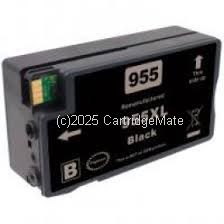 Pricing (including GST)
Save: $10.00 (20%)
RRP

$49.95

1+$39.95
2+$38.95
3+$36.95
Product Information
Manufacturer: Eurojet
Type: Compatible Inkjet Cartridge
Pack Contents: 1 x Hewlett Packard L0S72AA Black (955XL) Extra Large New Compatible Inkjet Cartridge - Average Yield 2,000 Pages
All Prices Include GST
Features
HP #955XL Black Ink 2k HP OFFICEJETPRO 7740/8210/8216/8710/8720/8730/8740
Save up to 50% on printing costs.
Highest quality compatible cartridge.
Printer guarantee.

Further Information
Remanufactured Inkjet Cartridges
These inkjet cartridges are remanufactured to exacting standards. All inkjet cartridges are disassembled, ultrasonically bathed, cleaned and reassembled to provide a product that will meet very high standards in output quality and print life.
Once the cleaning process is complete, each cartridge is filled with top quality premium inks using state-of-the-art filling machines specially designed to minimize wear and tear on the cartridges. After the filling process, the cartridges are thoroughly print tested to ensure top quality printing.
Every cartridge is quality controlled throughout each process to ensure that each printhead is prepared to print like new.

Frequently Asked Questions?
Q.Will the quality of print be equivalent to that of the original?
A.Yes,because we only use the highest quality products from leading manufacturers, you can be certain that the results will be at least equivalent to that of the original.
Q.Will the print life be equal to that of the original?
A.Yes, in some cases the print life of the cartridge can be in excess of the original.
Q.Will using a compatible cartridge void my manufacturers warranty?
A.No, the original equipment manufacturer cannot void your warranty simply for using compatible cartridges. In fact there are laws preventing manufacturers from doing just that. Manufacturers can however refuse to repair a printer under warranty if it is proved that a remanufactured cartridge has caused damage to the printer.Hence our guarantee!
Q.What is your guarantee!
A.We guarantee that our products will not damage or cause premature failure to your printer. If as a direct result of using our compatible cartridges damage occurs to your printer we guarantee to either repair or replace the printer absolutely free of charge!

100% satisfaction guarantee!

We want you to be completely happy with your purchase and if for any reason you are not completely satisfied you can return the product for a full refund.
Related Items
Customer's who purchased this product also looked at the following items:-