*Canon Compatible 1 Litre Bottle Black Inkjet Ink
1 Litre Bottle of Canon Compatible Black Inkjet Ink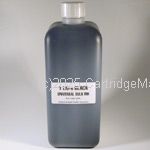 Pricing (including GST)
Save: $30.95 (31%)
RRP

$99.95

1+$69.00
2+$64.00
3+$55.00
Product Information
Manufacturer:
Type: Canon Compatible Bulk Ink
Pack Contents: 1 x 1 Litre Bottle of Canon Compatible Black Inkjet Ink
All Prices Include GST
Features
Save up to 80% on your inkjet printing costs
Easy to follow instructions with proven refilling techniques.
Refill your cartridge in only a few minutes.
Never run out of ink again
Print all you want without worrying about the cost
Recycle your ink cartridges and help the planet
Further Information
Specific Formulated Inkjet Refill Kit For Brother and Canon Inkjet Cartridges
The use of Inkjet and bubblejet printers in the home and office has increased dramatically in the last few years. Running an inkjet printer can however be a costly business especially when it is used to produce printed graphics.
The inkjet ink supplied in this refill systems and associated bulk ink packs is specifically formulated for use with Brother and Canon inkjet cartridges. This specially formulated ink is guaranteed to meet or exceed the results obtained from your original Brother or Canon inkjet cartridge. This ink is manufactured by Europe`s leading independent inkjet ink manufacturer OCP.
Refilling Your Inkjet Cartridge
Refilling is simply the process of injecting ink into your existing cartridge.
With one of our inkjet refill kits you can refill your existing inkjet cartridges and dramatically reduce your printing costs. The tools supplied in your refilling kit can be retained and reused, so in the future you only need to buy the additional bulk inks as and when you require them. An inkjet refill kit consists of bottles of inkjet ink, injectors, and all necessary refilling tools
Refilling Procedure
The refilling procedure only takes a few minutes and is extremely simple. We provide complete user instructions with each inkjet refill kit. Some inkjet cartridges are refillable without any modifications and some require minor modifications. All inkjet refill kits contains the tools and the instructions necessary to modify any inkjet cartridge.
How many times can an inkjet cartridge be refilled?
Generally, between 6 and 12 times. The more you print, the more you save. Some of our customers have refilled and used the same inkjet cartridge up to 30 times.
Three types of refill kits are currently available - black,colour and photo.
1.The black refill system contains 60ml of black ink that will for example refill the Epson Stylus range of black cartridges four times.
2.The colour refill system contains 30ml each of cyan,magenta and yellow ink,and will refill the Epson Stylus range of colour cartridges 3 times.
3.The photo refill system contains 30ml each of light cyan and light magenta will refill the Epson Stylus range of photo cartridge 3 times.(This kit is a companion to the colour refill system which will also be required to refill todays 5 colour photo printer cartridges)
Specific Formulated Bulk Inks For Brother and Canon Inkjet Cartridges
Reduce your printing costs even further with our range of Bulk Inks.
Having purchased the initial refilling system,simply retain the refilling tools and instructions for future use and cut your printing costs even further with the use of our bulk ink packs.
Note: You can bypass puchasing the inkjet refill Kit by purchase the refilling kit only for use with a corresponding bulk ink pack.
Bulk Ink Packs are available in 60ml,120ml,250ml,500ml and 1 litre packs in the corresponding colours:Black,Cyan,Magenta,Yellow,Light Cyan and Light Magenta.
Related Items
Customer's who purchased this product also looked at the following items:-