Cartridgemate Fujifilm CT350413 Drum
Cartridgemate Fujifilm CT350413 Black Compatible Drum Unit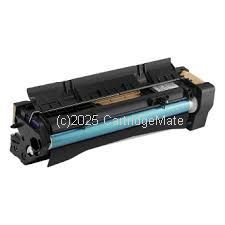 Pricing (including GST)
Save: $51.00 (17%)
RRP

$300.95

1+$249.95
2+$239.95
3+$229.95
Free Same Day Shipping
Product Information
Manufacturer: (TC)
Type: Drum Unit
Pack Contents: 1 x CartridgeMate Fujifilm CT350413 Drum Unit
All prices include GST
FREE delivery available
Features
Save up to 50% on printing costs.
Highest quality compatible cartridge.
Manufactured to high standards and rigorously quality tested.
Print sample test supplied with cartridges where practicable
100% satisfaction guarantee
This is a premium re-manufactured toner cartridge. The cartridge is strictly designed and manufactured in accordance with fully certified ISO 9001 quality systems. All the components have been tested and replaced with new as required. This ensures that there are no compromises with quality so that you are guaranteed comparable printing quality just like you would expect from the original equipment manufacturer. This printer cartridge has been thoroughly tested for both quality and page yield.

Compatible Cartridges - Frequently Asked Questions!
Q.Are all makes of compatible toner cartridges the same?
A.No, not all compatible cartridges perform to the exact same standards. Quality does vary considerably from manufacturer to manufacturer. We only provide the highest quality premium products with the best performance. We know that by only supplying the highest quality products, we will earn your future business and referrals.
Q. Is it true that your cartridges are not always the cheapest ?
A. True. With strict quality control and after sales service support cost a little more. Unfortunately in our industry cartridges can be 'refilled' cheaply. The cost cutting has a direct reflection on the fault rate and print quality.
Q.Will the quality of print be equivalent to that of the original?
A.Yes, because we only use the highest quality products, you can be certain that the results will be at least equivalent to that of the original. We aim to match original page yields and print density.
Q.Will the print life be equal to that of the original?
A.Yes, in some cases the life of the new ink cartridge can be in excess of the original.
Q.Will using a compatible cartridge void my manufacturers warranty?
A.No, the original equipment manufacturer cannot void your warranty simply for using compatible cartridges. In fact, there are laws preventing manufacturers from doing just that. Manufacturers can however refuse to repair a printer under warranty if it is proved that a compatible cartridge has caused damage to the printer. Our guarantee!
Q.What is your guarantee!
A.We guarantee that our products will not damage or cause premature failure to your printer. If as a direct result of using our compatible cartridges, damage occurs to your printer, we guarantee to either repair or replace the printer absolutely free of charge!

100% satisfaction guarantee!

Full Protection Warranty

Australian consumer rights
It is your right to choose the brand of cartridge for use in your printer. It is against the law for anyone to tell you that your printer warranty can be voided if you don't use the printer manufacturer's cartridge (OEM)
Our products come with full protection warranty that ensures your complete satisfaction. CartridgeMate compatible products are chemical, mechanically rounded or conventional products to optimism performance and value and have been thoroughly tested for image quality, density yield and component wear. The product will not cause damage, abnormal wear, or deterioration to units used within the standard manufacturer's specification. Our suppliers respect intellectual property concerns and may design the product cartridges differently than the OEM for performance or intellectual property reasons.


Further Information
APEOSPORT 350I, 450I, 550I, APEOSPORT II 3000, 4000, 5010, DOCUCENTRE II 4000, 5010
Related Items
Customer's who purchased this product also looked at the following items:-