Brother DR-2125 Drum Unit - Original Product
Brother DR-2125 Drum Unit - Average Yield -12,000 Pages - Original Product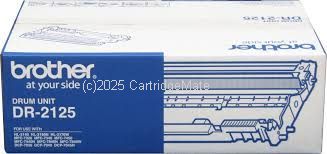 Pricing (including GST)
Save: $38.00 (18%)
RRP

$208.95

1+$170.95
2+$168.95
3+$166.95
Product Information
Manufacturer: Brother
Type:Original Drum Unit
Pack Contents: 1 x Brother DR2125 Drum Unit - Average Yield 12,000 Page Life
NOTE This is NOT a Toner Cartridge
All Prices Include GST
Features
Brother DR-2125 - average yield -Up to 12,000 pages
There are many factors that determine the actual drum life, such as temperature, humidity, type of paper, type of toner used, the number of pages per print job, etc. The estimated drum life rating is under ideal conditions. The actual number of pages that your drum unit will print may be significantly less that this estimate. Because we have no control over the many factors that determine the actual drum life, we cannot guarantee a minimum number of pages that will be printed by your drum. The printer should be used only in a clean, dust-free environment with adequate ventilation

A drum unit transfers the image onto the paper in a laser printer. Not all printers need a separate drum unit. Drum units are used in conjunction with toner cartridges that do not have the drum unit included. Mono printers have one drum, colour printers can either have one drum for all four colours, or four drums (one for each colour - black, cyan, magenta and yellow).
Related Items
Customer's who purchased this product also looked at the following items:-